What is glyphosate?
Glyphosate, as you may know, is the chief ingredient in Roundup, the most common herbicide used on the nation's farms, parks and backyards. Glyphosate is also reportedly linked to cancer and serious health problems, including birth defects, kidney disease and other complications. A California jury recently awarded a terminally ill groundskeeper a record $289-million verdict after connecting his cancer to glyphosate.
What the lab tests found was alarming. Traces of glyphosate appeared in all but two of the 45 non-organic oat cereals and snack bars tested. Worse, three-quarters of the samples analyzed contained higher levels of glyphosate than what some scientists believe is safe for kids.
How much Roundup glyphosate is in cereal?
The lab tests used a measure called parts per billion, or ppb. In the simplest terms, anything above 160 ppb is considered bad for your health, according to these scientists.
Some of best-known brands had most contamination, such as:
Two samples of Quaker Old Fashioned Oats had levels at or above 1,100 ppb.
Three Cheerios samples had levels of 470 ppb and above.
Two samples of Quaker Dinosaur Eggs Brown Sugar Instant Oatmeal contained levels of 620 ppb and 780 ppb.
Two samples of Quaker Steel Cut Oats had 290 ppb and 530 ppb.
Two Lucky Charms samples contained levels of 230 ppb and 400 ppb.
Two samples of Quaker Simply Granola Oats, Honey, Raisins & Almonds contained levels at 400 ppb and above.
In response, Quaker told Fast Company its foods contain only minimal amounts of glyphosate and the food giant stands by the "safety and quality" of its products. General Mills, which makes Cheerios and Lucky Charms, also called its cereals safe.
And while the EWG toxicologists found similar results in tests of popular oat-based snack bars, the results weren't quite as bad or as widespread as the cereals. For example, the amount of glyphosate in a Quaker Chewy Chocolate Chip granola bar hovered just at the scientists' health threshold, at 160 ppb.
But it wasn't good news across the board. Tests of Nature Valley Crunchy Granola Bars Oats 'n Honey showed it contained up to 340 ppb of the chemical.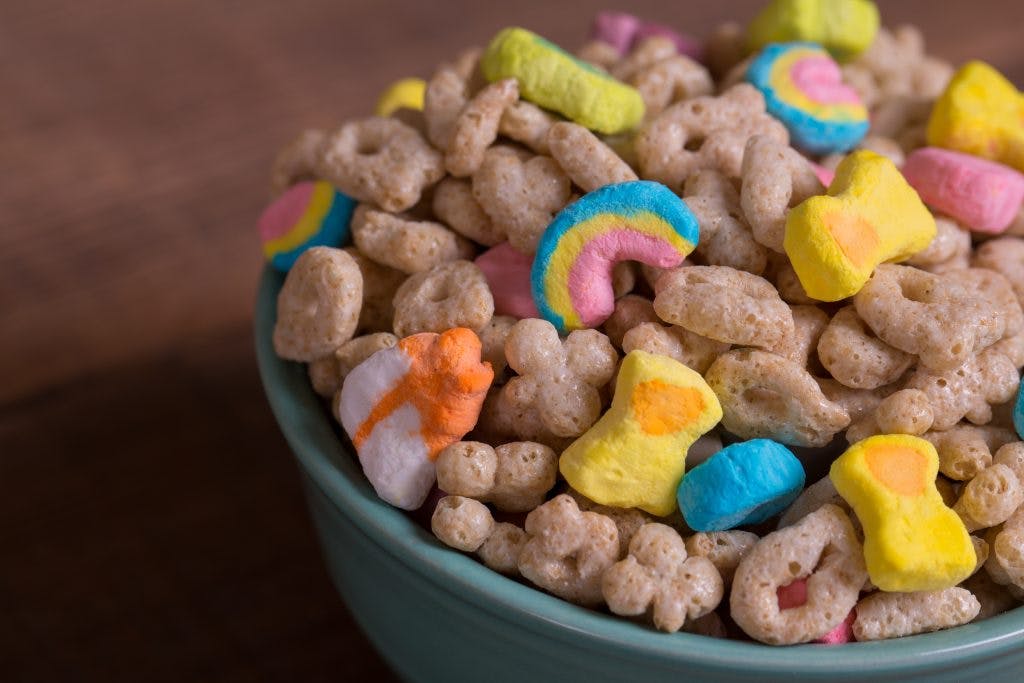 Does glyphosate cause cancer?
California has labeled glyphosate a cancer-causing agent, and the World Health Organization's International Association for Research on Cancer has determined the chemical is "probably carcinogenic to humans."
EWG scientists urged caution, warning that even consuming "safe" levels (160 ppb and below) of glyphosate can pose health risks. They said eating foods with just 0.01 grams of glyphosate would make your odds of getting cancer about one-in-a-million. To reach this level, you'd only need to eat a single 60-gram (less than one cup) serving to contain 160 ppb of glyphosate, according to EWG. Eat more cereal, and your cancer risk goes up.
It's worth noting again that many of the cereals tested far surpassed the 160 ppb threshold. The amount of risk varies, depending on whether you're a small child or a grown adult.
Before you swear off cereal and granola bars for life, there was one bright spot in the report. The lab also tested organic cereals and snack bars, and found most were free of glyphosate. Of the 16 organic cereals and snack bars tested, none had levels of glyphosate above the 160 ppb threshold.