Endoscopy
Closed-channel duodenoscopes are used in more than 500,000 procedures each year, and are difficult to clean and disinfect. Scopes contaminated with deadly superbug bacteria have been reused time and again, infecting hundreds of patients across the country. Endoscopy infections have occured in hospitals nationwide.
The Truth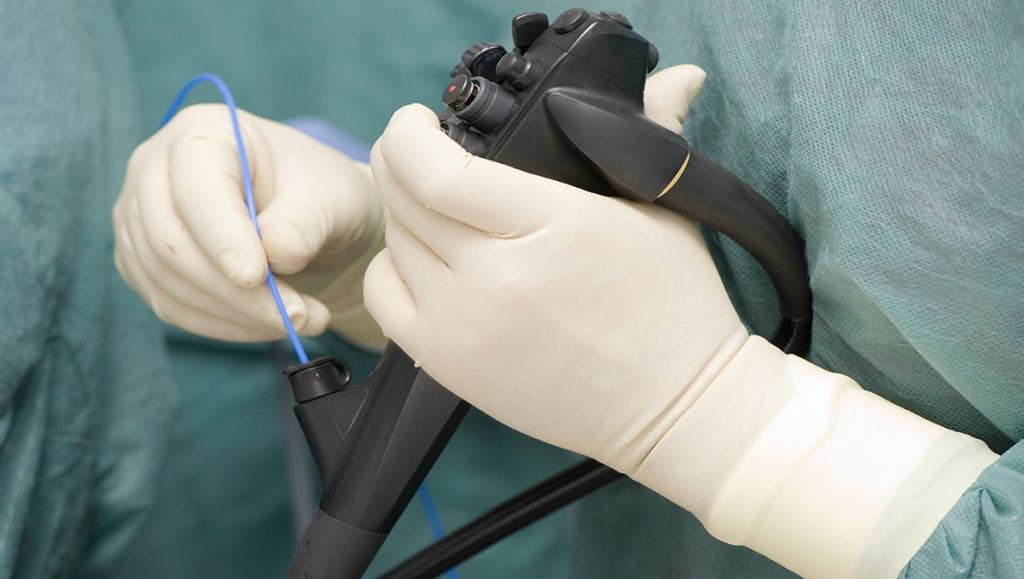 A duodenoscope is a thin, flexible tube used in a number of standard medical procedures. The device, equipped with a camera, is threaded through the throat, stomach and small intestines, allowing doctors to take photos of a patient's insides.
Scopes perform endoscopic retrograde cholangiopancreatography procedures (ERCP) to identify and treat cancers, gallstones and other digestive illnesses. The devices can also assist doctors with removal and biopsies. More than 660,000 ERCPs were performed in 2014.
After a scope procedure, hospitals attempt to disinfect the medical device. But the truth is that no effective method to completely clean and sanitize duodenoscopes exists.
Because of ineffective cleaning mechanisms, duodenoscopes have spread antibiotic-resistant bacteria in more than 25 U.S. hospitals. Many endoscopy infection strains have become multi-drug resistant.
One particular scope model, which wasn't approved by the FDA, caused two deaths and hundreds of infections.
Studies + Science
The U.S. Centers for Disease Control (CDC) estimates 2 million people can become infected with superbugs each year, and nearly 23,000 will die from the infections. The organization cites these infections as "now too common," with some pathogens developing a resistance to more than one class of antibiotics.
"Antimicrobial resistance is one of our most serious health threats," according to a 2013 CDC report.
Duodenoscopes come into contact with the mucous membrane, which requires a more stringent multistep cleaning process to ensure that it doesn't carry bacteria to the next patient. The three-step cleaning procedure includes immediate point-of-use wiping, thorough brushing by a technician, a high-level disinfection, which is meant to kill remaining bacteria.
Although duodenoscopes have been used for years, a recent outbreak at a renowned medical center has brought new attention to superbug safety concerns. A number of infections can hide in the closed channels of duodenoscopes. However, some are more common than others.
Common Endoscopy Infections
E-coli (Escherichia coli)
Klebsiella pneumoniae
CRE (Carbapenem-resistant enterobacteria)
Pseudomonas aeruginosa
Secondary Endoscopy Infections
ESBL (Extended-spectrum beta-lactamase)
Enterococcus
Stenotrophomonas maltophilia
Enterobacter cloacae complex
Citrobacter freundii
ESBL positive
Staphylococcus epidermidis
Sepsis/septicemia
Delayed bacteremia post-ERCP
How do scopes spread infection?
Closed-channel duodenoscopes are designed with elevator mechanisms to allow health care professionals to control the machine, move the camera and gather necessary health information. Bacteria can crawl inside the channel, meant to be sealed by an O-ring mechanism, during the procedure and remain there.
The channel contains crevices that are too small to be sanitized with a brush, and poor-quality sealing mechanisms exacerbate this problem. The bacteria hide in the hard-to-reach parts of the device. The scope is then reused time and again.
A study conducted in the Netherlands, then published in the U.S. National Library of Medicine, found a high infection rate linked to scope procedures. Based on the Spaulding classification system, the research classifies ERCP as critical because they "enter the vascular system and normally sterile tissues and that carry a high degree of infection risk if contaminated during use should be sterilized."
"The true incidence of endoscopy-related infections is unknown because of inadequate surveillance or no surveillance at all," the researchers wrote. "Endoscopy-related infections can cause serious harm and can give rise to concerns over these procedures by physicians and patients."
Another study, also published in the U.S. National Library of Medicine, said that the danger of duodenoscope contamination has been "somewhat underestimated so far, with few guidelines specifically dealing with reprocessing of duodenoscopes." The researchers say that the eight steps of pre-cleaning, leakage testing, cleaning, rinsing, disinfection, rinsing, drying, and storage should be given the utmost attention, but the authors still call for improving overall cleaning protocols.
"Updated guidelines regarding cleaning and disinfection of duodenoscope need to be developed urgently to prevent transmission of infection and ensure patient safety," the authors wrote.

Regulation Recap
Duodenoscopes were first patented in the 1960s by Bausch & Lomb. Currently, there are three major companies manufacturing duodenoscopes: Olympus, Fujifilm, and Pentax. Olympus is a Japanese corporation that holds more than 85 percent of the U.S. market share.
Open-channel duodenoscopes were the standard for years. When Olympus introduced closed-channel scopes, it set off a chain of contamination and infections across the world.
Closed-Channel Scopes Enter the Market
Since 2008, Olympus had been selling an FDA-approved, open-channel scope model TJF-Q160. Without filing a 510(k) approval application, the corporation introduced a closed-channel duodenoscope in 2010. The scope set a new industry standard and prompted Fujifilm and Pentax to follow suit.
The scope was designed to improve the prevention of bacterial exposure -- but there was a big problem. The closed-channel model, TJF-Q180V, was not sufficiently tested or approved by the FDA.
The manufacturer claimed that the model wasn't submitted for approval because the design was compatible with existing products. But in truth, the TJF-Q180V had a deadly difference. The sealed channel couldn't be disinfected using the older model's cleaning protocols.
The closed-channel scope model made its way into hospitals across the world. The first indication that the scope was dangerous came in January 2012, when health care professionals in the Netherlands linked 30 bacterial infections to the Olympus TJF-Q180V. Doctors at the Erasmus Medical Center in Rotterdam informed Olympus of the contamination risk, requesting a recall of its product and a global investigation.
Olympus became aware of a number of infected sites in the next two years. Instead of launching an investigation, the corporation issued a safety announcement to European healthcare professionals. The advice came in 2013 as a response to the Netherlands outbreaks. The corporation issued a second European safety alert in 2014 but chose not to sound the alarm in the United States.
2014 UCLA Medical Center Outbreak
The distinguished UCLA Medical Center experienced an outbreak of carbapenem-resistant Enterobacteriacea (CRE). The antibiotic-resistant strain of CRE killed three people and infected many others before a team of professionals tracked the superbug to a dirty duodenoscope used during an ERCP.
The hospital had purchased the new scopes, priced at $40,000, only 7 months prior. The doctors followed the standard protocol provided by manufacturers.
The UCLA infections drew attention from the FDA and helped regulators and healthcare professionals to understand the dangers of endoscopy infections. But UCLA isn't the first hospital to deal with scope contamination.
Dirty scopes spread antibiotic-resistant infections. They've been cause of 11 deaths at Virginia Mason Hospital and Medical Center in Seattle, four infections at Cedars-Sinai Medical Center, and 281 exposures of E.coli at Hartford Hospital proves that ineffective scope sanitation isn't an isolated issue.
2015 Government Actions
While patients continued to undergo ECRPs with contaminated devices, the FDA played catch up. The agency didn't alert the public for over a year after learning that closed-channel scopes could be dangerous.
In March 2015, the FDA delivered a letter compelling Olympus to apply for approval in order to sell the device. The agency subsequently issued a safety announcement to warn doctors and patients about the device's potential to spread hidden bacteria. Olympus issued a voluntary recall in response.
The Gastroenterology and Urology Devices Panel met on May 14 and 15, 2015 to discuss how to proceed with duodenoscope safety. As recommended by numerous researchers, the panel decided to allow scopes to stay on the market.
"Based on the methodology and criteria for acceptance of cleaning, high-level disinfection, and sterilization validation testing for both manual and automated processes, the panel concluded that duodenoscopes and AERs do not provide a reasonable assurance of safety and effectiveness," the panel decided. However, the panelists found that "the benefits of the procedure for the population outweigh the potential risks associated with the use of duodenoscopes."
2016 U.S. Senate Investigation
The Health, Education, Labor and Pensions Committee met to discuss the report, titled "Preventable Tragedies: Superbugs and How Ineffective Monitoring of Medical Device Safety Fails Patients." The report detailed that dirty scopes spread bacteria in more than 25 U.S. hospitals from 2012 to 2015.
The 30-page document provides a detailed report, illustrating that:
Current postmarket surveillance systems are inadequate
Olympus knew that its scope couldn't be effectively cleaned in 2012
Olympus, Pentax, and Fujifilm didn't meet their regulatory responsibilities
Hospitals didn't proactively report infections to the manufacturer or the FDA
FDA didn't recognize or respond to the dangers fast enough
FDA needs a better surveillance system
CDC Proposes Better Prevention Programs
The CDC issued a statement informing the public that they plan to expand responsive infection infrastructure across the United States. In the 2016 budget, the CDC had requested funding that would "support State Antibiotic Resistance Prevention Programs in all 50 states and 10 large cities and a regional lab network to help identify and to respond faster to these outbreaks ."
"This funding would provide critical national infrastructure to prevent the growing threat of CRE and other drug-resistant pathogens," the CDC wrote.
FDA Urges Transition to Disposable Duodenoscopes
The US Food and Drug Administration (FDA) recommended that manufacturers and healthcare facilities adopt the use of duodenoscopes that have disposable components, claiming it may pose less risk of infection to patients. Disposable designs eliminate the need for reprocessing, and, in-turn reduce between-patient duodenoscope contamination.
In April, the FDA released adverse event data that showed three deaths, 45 patient infections and 159 cases of device contamination related to inadequate reprocessing of the devices between October 15, 2018, and March 31, 2019. Results of postmarket "human factors" studies suggest that users "frequently" have trouble understanding and following manufacturers' reprocessing instructions and are not able to successfully complete reprocessing, which may leave the duodenoscopes contaminated.
The disposable accessories should be gradually transitioned into healthcare facilities to avoid shortage. Full-market withdrawal of a conventional tool is not logistically feasible, the agency said. The FDA cleared two duodenoscopes with disposable end caps: Fujifilm Corporation, model ED-580XT and Pentax Medical, model ED34-i10T. Other firms have announced plans to develop fully disposable duodenoscopes.
FDA Warns Against Illegal Test Strips
The FDA is also warning against certain test strips illegally marketed to assess duodenoscope cleanliness. Some healthcare facilities are using adenosine triphosphate (ATP) test strips that claim to indicate the presence of live microbes inside of duodenoscopes. However, there are no legally marketed ATP test strips cleared by FDA for this use, the agency said.
ATP test strips assess duodenoscope cleaning by indicating the presence of live microbes inside of duodenoscopes. However, to date, the FDA is not aware of any legally marketed ATP test strips cleared by the agency, which means the FDA has not reviewed them for effectiveness in assessing reprocessing, they said.
The FDA has contacted manufacturers of ATP test strips, advising them of the FDA's requirements for manufacturing, testing and labeling for medical devices marketed for assessing duodenoscope reprocessing. The FDA has requested they submit data to support the clearance of the strips for this use. As for any unauthorized use of a medical device, if the companies do not come into compliance, the agency will consider whether to take enforcement action if necessary. In the meantime, the FDA is asking health care facilities not to rely on these test strips to assess duodenoscope cleaning.
FDA Advisory Committee Addresses Working Conditions of Duodenoscope Reprocessors
To further safeguard duodenoscopes, experts at an FDA advisory committee are considering the hostile work environments, low pay and inadequate training for equipment reprocessors. The committee identified these as key challenges to cut down on high levels of contamination. However, the FDA does not have jurisdiction over imposing certification of workers or their training, steps that may help improve the quality of work done by reprocessors.
In 2019, the FDA took a number of steps to increase duodenoscope safety. The FDA now requires these devices to include their contamination rate on the labelling as determined by a May 2019 postmarket study. In Dec. 2019, the FDA approved a completely disposable duodenoscope for surgical use.
The Next Steps
Endoscopy infections can be life-threatening. While the FDA investigates the potential to spread infection with an unstudied medical device, duodenoscopes are still used on thousands of patients each year.
Connect with a community of consumer advocates and make moves toward a better future.
Contact Us
No mechanism or protocol to effectively sanitize duodenoscopes exists.
Thirteen bacterial strains have the ability to crawl in a scope's crevices and spread disease.
Olympus, the number one U.S. scope maker, knew about the dangers since 2012 but failed to inform the public.
The pool of resources for people infected by dirty scopes continues to grow.
Get our reporting in your inbox
Read more about Endoscopy
MedTruth Editors · January 26, 2023
After a series of facility inspections, the leading manufacturer of endoscopes was found to have violated medical device reporting requirements and quality system regulations.
FDA Regulation
James Parker · January 6, 2020
The Exalt Model D, manufactured by Boston Scientific, is the first single-use duodenoscope approved for physicians.
FDA Regulation
Tess Francke · November 18, 2019
Traditional duodenoscopes may cause infection. The FDA recommends hospitals transition to disposable duodenoscopes and warns against illegal ATP test strips used to determine cleanliness.
FDA Regulation
Ashley Lombardo · November 2, 2016
Duodenoscopes, commonly reused medical devices, may become infected with antibiotic-resistant bacteria. A duodenoscope infection may be fatal.
News